Want to stay on top of the latest tech headlines?
You're in the right place. TechKitchen Talks is your go-to podcast for insights, unique perspectives, and what's just around the corner in tech.
Listen now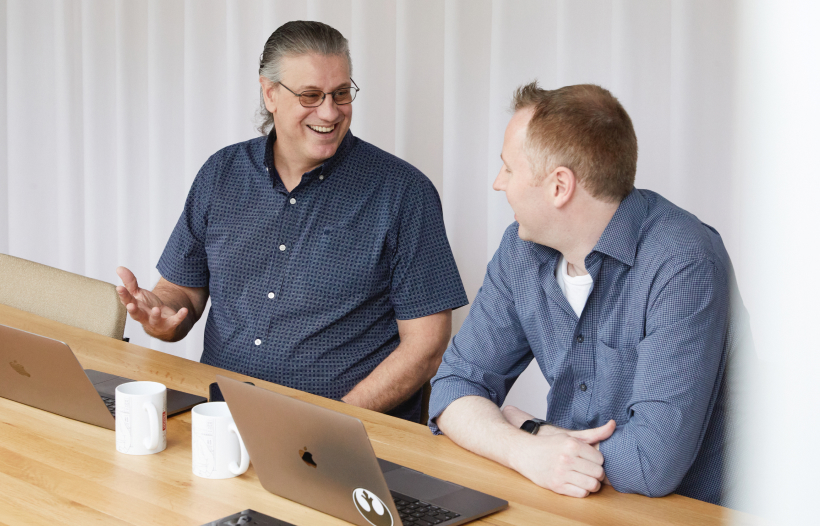 Every episode of TechKitchen Talks is packed with discussions on the latest and greatest tech, rife with opinionated intel, loaded with practical recommendations, and brimming with simple hacks to elevate your workday — all served up by our resident TechKitchen CTOs: Glyn Roberts from London and Dave Hecker from Silicon Valley.
EP25
TechKitchen Talks: Is the Metaverse dead?
Jun 30, 2023
As virtual experiences grow in popularity, major tech companies are jumping on the bandwagon with increasingly sophisticated VR products. But will there ever be a killer app that brings the Metaverse to the masses? Glyn Roberts and Dave Hecker discuss the future of virtual reality, their frustrations with Google's new top-level domains, and other articles that have caught their attention this week.
EP24
TechKitchen Talks: Where has the passion in tech gone?
Jun 9, 2023
The tech industry is changing. Lawsuits and legislations are on the rise, with the post-Covid landscape reshaping what it means to be a developer. But while tech resources and AI solutions have never been so accessible, the number of personal projects is dwindling. So, the question remains: Are engineers no longer passionate about coding? Glyn Roberts and Dave Hecker discuss the impact of AI, the death of the side hustle, and whether CTOs or developers should accept revenue-share partnership contracts.
EP23
TechKitchen Talks: The changing face of cybersecurity
Jun 2, 2023
Security is getting smarter, and hackers are too. Where once we had a single password for every app, valuable information is now guarded by face ID and complex biometrics. But passwords offer an easy way to change your access information when hackers come calling. So, is it safe to rely on a single layer of biometric security when you can't change your fingerprint – or your face? Glyn and Dave debate the merits of passkeys, biometric security, and how to navigate targeted attacks via social media.
EP22
TechKitchen Talks: Where do you start up a startup?
May 17, 2023
Between regional employment laws and the limitations of a local talent pool, choosing a place to set up shop can be tough. But as remote working, AI, and automation start shaping the new world of work, does location really matter as much as we think? Glyn Roberts and Dave Hecker talk taxes, funding, and what the future looks like for the new generation of developers.
EP21
TechKitchen Talks: Data theft, inside jobs, and the role of AI in cybersecurity
Apr 28, 2023
We're all looking for ways to keep our information safe, particularly in the business world. While top-notch data protection may seem like a good idea, it begs the question: When it comes to cybersecurity, how much is too much? Our resident CTOs, Glyn Roberts and Dave Hecker, discuss recent breaches, the ethics of user tracking software, and the risk vs. reward of investing in pricey security tech.
EP20
TechKitchen Talks: The Year of Efficiency and the death of the content creator economy
Apr 20, 2023
Is there a 'right' way to conduct employee evaluations? Will ChatGPT cause the death of the content creator economy? In this episode, Glyn and Dave take on the tech world's big questions — offering their insights on employee mentorship, content monetisation, and how CTOs can retain their existing teams amidst the current hiring freeze.
EP19
TechKitchen Talks: SVB takeaways, licensing and policy changes, and AI's impact on data privacy
Apr 3, 2023
Between SVB's bailout, Bitcoin's role as a hedging tool, open-source projects' licensing requirements, Docker's policy change, AI developments, and trends in business conduct, the news has been riddled with forebodings and nods to change. Our CTOs, Glyn Roberts and Dave Hecker, explore what it all means for organizations and offer practical actions to stay ahead of the curve.
EP18
TechKitchen Talks: How the sought-after big tech career path has changed
Mar 20, 2023
Big tech companies like Apple and Meta offer employees world-class management and techniques. On the flip side, these organizations can suffer from being oversized and clunky, translating to narrow scopes and a lack of agility for employees. As these companies continue to conduct layoffs, Glyn Roberts and Dave Hecker answer the question: Does working for big tech matter anymore? Hear their perspectives on tech career paths, overcoming jet lag, and more.
EP17
TechKitchen Talks: ChatGPT and the looming layoff debate
Mar 3, 2023
How many employees does a company need to succeed? Is ChatGPT really good enough to replace manpower? In this episode, Glyn Roberts and Dave Hecker parse through the questions that have been fueling the future-of-work debate. They deep dive into AI and how it's affecting different industries, tech layoffs' impact on stock prices, and the hire-fire debacle.
EP16
TechKitchen Talks: Standout moments from the year and 2023 predictions
Jan 3, 2023
In our final episode for this year, Glyn Roberts and Dave Hecker discuss this year's standout moments and what 2023 could bring to the tech industry. Our hosts look at Twitter, funding, self-driving cars, the great resignation, AI, and the almighty fall of FTX. They dive into the year ahead and talk about layoffs, and security threats in auto-coding and crypto. Will the Metaverse finally take off?
EP15
TechKitchen Talks: Fractional CTOs and the recent crimes of Silicon Valley
Dec 22, 2022
Who's to blame when projects fail? Glyn Roberts and Dave Hecker zero in on the roles of the leadership team, developers, and fractional CTOs. Our hosts discuss the benefits of testing in production; and, while it may not be a new concept and can deliver a much-needed cost benefit, it comes at the risk of alienating users. They then dive into the recent sentencing of Elizabeth Holmes and how the crimes of Silicon Valley are coming under increasing public scrutiny. Will Elon Musk be next?
EP14
TechKitchen Talks: Layoffs and the value of strong communication in tech
Dec 7, 2022
Carnage on the employment dance floor. Glyn Roberts and Dave Hecker discuss layoffs in the tech sector, from Twitter's rapid-fire approach to being given your digital pink slip by an avatar, and shine a spotlight on the need for leadership teams to cut strategically and swiftly. What if kindness can be used as a tool to retain the talent left behind? They also dive into the technical debt knowledge gaps managers face and answer the question, What can engineers do to better communicate the value of their work?
EP13
TechKitchen Talks: The ethics of job automation and share options in business
Oct 24, 2022
As companies embrace automation and AI, some jobs will be created or enhanced, but many are likely to disappear completely. Glyn Roberts and Dave Hecker talk through if some automation can be positive, enabling more productivity. Or is it cheating, promoting unhealthy working habits, and a deceptive workplace culture? Our hosts then discuss the confusion employees feel around equity shares and option pools and if they are actually a good thing for staff.
EP12
TechKitchen Talks: Pollen's working culture & old tech that's still relevant
Oct 7, 2022
Our CTOs discuss the positive engineering culture of Pollen; a world-class experiences company that monumentally collapsed earlier this year. What exactly made their culture so unique? In addition to this, our resident CTOs take a nostalgic stroll down memory lane, looking at old tech that has managed to cling to its relevancy in today's world.
EP11
TechKitchen Talks: Business Resilience & Online Safety Bills
Sep 21, 2022
With ten episodes now under their belt, this week our hosts set their most ambitious goal yet: to stay positive. Some businesses were impressively quick to pivot during the pandemic – Glyn and Dave consider what organisations can learn from that. They then dive into California's new child online safety bill. How easy will it be for society to achieve the praiseworthy aims behind this new initiative?
EP10
TechKitchen Talks: Employee Performance & Happiness
Aug 24, 2022
Several big tech CEOs have recently asserted they're turning up the heat on staff productivity and performance. Is employee performance really decreasing or is there something else going on here? Glyn Roberts and Dave Hecker, two leading CTOs from London and Silicon Valley, discuss. Our hosts then turn to a related question: what makes developers unhappy?
EP9
TechKitchen Talks: Adapting Product Portfolios & Software Architecture
Aug 08, 2022
TikTok is looking to sustain its meteoric rise by diversifying into other product areas. While its e-commerce initiative has now crashed and burned, areas like games and music could fare better. When should a company stay focused on one product and when should it expand into new areas? Glyn Roberts and Dave Hecker, two leading CTOs from London and Silicon Valley, put their heads together. They then bring microservices and serverless into question. With a huge organisation like Stack Exchange successfully running on such a small architecture set, are we sometimes too quick to jump to the microservices or serverless option?
EP8
TechKitchen Talks: SaaS Dependency and Preparing for the Gen Z Audience
Jul 26, 2022
With their reduced-time-to-benefit, scalability and lower costs, SaaS solutions have become ubiquitous. But with drawbacks including reduced control and security, some companies naturally begin looking to other hosting options. At what point should you move away from SaaS? Can hosting providers like AWS become an issue? Glyn Roberts and Dave Hecker, two leading CTOs from London and Silicon Valley, discuss. Our hosts then move onto Gen Z – how much of company platforms and marketing efforts should be built around TikTok, Instagram, and the like?
EP7
TechKitchen Talks: AI Pair Programming Tools & Industry Slowdown
Jun 21, 2022
Amazon CodeWhisperer, the new AI pair programming tool that uses 'contextual clues' to create code recommendations, has just landed. Do the productivity gains of these tools outweigh potential security issues and developer de-skilling? Glyn Roberts and Dave Hecker, two leading CTOs from London and Silicon Valley, discuss. Our hosts then cut through the noise surrounding tech layoffs and industry slowdown.
EP6
Passwordless Futures & Sentient Chatbots
Jun 24, 2022
In a rare turn of events, Apple, Google, and Microsoft have come together for a joint initiative. The three tech giants will soon implement passwordless sign-in on all major platforms – all using the same FIDO standard. Glyn Roberts and Dave Hecker, two leading CTOs from London and Silicon Valley, discuss this recent development. They also consider the inner life of software – has Google created a sentient chatbot? Should we be worried?
EP5
The Metaverse & Managing Upwards at Work
Jun 21, 2022
This week, our hosts delve into Otherside (the new open metaverse RPG from Bored Ape), examine Metaverse real estate, and reveal how you can effectively manage upwards at work. Join Glyn Roberts and Dave Hecker, two leading CTOs from London and Silicon Valley, to hear their views.
EP4
Ethics in Tech & Workforce Cuts
Jun 21, 2022
If you discovered your employer was acting immorally, what would you do? Glyn Roberts and Dave Hecker, two leading CTOs from London and Silicon Valley, tackle this thorny question before asking one more: why does it seem like many companies are cutting back their workforce at the moment?
EP3
Crypto Crashes, Raising Funds & Programming Languages
Jun 21, 2022
As the crypto crash continues, what does the future hold for the currency? When's the best time to raise funds for your business and how do you select the right programming language for it? Glyn Roberts and Dave Hecker, two leading CTOs from London and Silicon Valley, share their views.
EP2
Technical Debt, NFT games & Twitter
Jun 8, 2022
Is Twitter still relevant and why is Elon, one of the world's richest men, buying it? In this episode of TechKitchen Talks, Glyn Roberts and Dave Hecker, two leading CTOs from London and Silicon Valley, discuss technical debt, NFTs and navigate the hall of mirrors that is Elon Musk's brain.
EP1
The Four-Day Working Week, Hacktivism & Staying Current with Tech
Apr 15, 2022
What does a four-day workweek mean for the future of tech? Join Glyn Roberts and Dave Hecker, two leading CTOs from London and Silicon Valley, in their first episode of TechKitchen Talks. They discuss the impacts of a four-day workweek, uncover the true meaning of hacktivism, and discuss how to stay afoot of current tech community news.